Who They Are
Cornerstone clients (although we're not actively currently marketing given Chris' full-time employment at WESST) have represented a broad spectrum — retail stores, job shops, service professionals, start-up entrepreneurs and others.
They share one thing in common: They view their businesses as investments and know they are worth working ON as opposed to just working IN.
For each, business development began by realizing there is a better way to run their business and that they could get there faster with the help of a business development professional.
Here are some of their stories.
If business development consulting sounds like something that might help you, these clients are delighted to speak with you about their experiences with Cornerstone.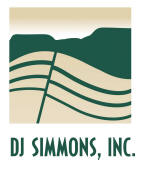 D. J. Simmons is a Farmington, NM-headquartered oil and gas exploration company that also owns Twin Stars, Ltd — a natural gas compressor sales and service company. Both companies are recognized regional leaders in their fields.
John Byrom, D. J. Simmons President and CEO, retained Cornerstone in December 2006 to help his company's oil and gas exploration division source and implement a performance management system as a next step in their efforts of obtaining Roadrunner Certification — the intermediate level of Malcolm Baldrige certification through Quality New Mexico. The company earned its Roadrunner designation in 2010. Like Cornerstone, John and his team believe that business process quality is an important indicator of long-term success and is worthy of investment.
As a start to that work, Cornerstone has supported John and his team with the refinement of their already well-developed strategic planning processes and plan. Cornerstone conducted a comprehensive survey of the company's directors and key managers which served as input for the plan's development and backdrop for the company's 1.5 day strategic planning retreat which was facilitated by Cornerstone.
The work and retreat narrowed the company's focus to those initiatives that matter most as the company defined "what matters most". Using the survey and retreat's findings, existing management accountability tools and with the addition of some refinements, strategic planning is sharper than it's ever been and D. J. Simmons was poised to source and implement a performance management system that will help a great company and team become even more successful.
Subsequent assignments consisted of project management oversight on the implementation of major project maintenance system including documentation of business processes and selection of outside vendors and the implementation of a robust set of digital data dashboards. More about digital data dashboards can be found by clicking here.
For further information, contact John Byrom at 505.326-3753 ext. 118
www.djsimmons.com

Dr. Nancy Shepherd, Presidential Assistant for Community Relations and Dean of the Community Learning Center along with others at San Juan College are long-time clients. Over the years, Cornerstone has assisted the College with its strategic planning activities, operation of the business incubator, consulting on developing new approaches to internal governance, community focus groups and a host of other activities.
For further information, contact Nancy Shepherd at (505) 566-3264.
www.sanjuancollege.edu

San Juan Reproduction is both an old and a young company. Serving the high-quality printing needs of the Four Corners since the 1950's, San Juan Reproduction is also a young company as a result of its recent dramatic growth through the acquisition of several smaller Farmington-area printing companies.
Working with owner Michael Kelley, Cornerstone is helping the company successfully integrate its acquisitions by reinforcing existing operational procedures or creating new ones that are better suited to the business' much larger scale.
In the fiercely price competitive printing business, operational excellence is directly correlated to profit margin and Cornerstone is pleased to be serving San Juan Reproduction in helping bring the full profit potential of their recent investments to the bottom line.
For further information, contact Michael Kelley at 505.327.5044

Parker's Inc. OFFICE PRODUCTS
Parker's was Cornerstone's first client. Parker's is owned by the Smith family and is Farmington's oldest full-line office products store. The company's 50-year history of customer service and local presence set an ideal stage for business development activity and reinvigoration. Our business development goals are to enhance operations with an eye toward further improving customer service, profitability and cash flow.
Working with the entire Smith family and several key team members, Cornerstone has helped Parker's draw fact-based conclusions about the profitability of individual customers and market segments, develop an ideal customer profile, implement key customer-service performance indicators and create the new mission statement below:
The mission of Parker's Office Products is to distinguish itself as the Four Corners' preferred full-line office solutions company known and valued for its superior customer service, quality products and competitive prices. We advance toward our goal by asking "If we were the customer . . ."
For further information, please contact Jeff Smith, President, at 505.325.8852
www.parkersinc.com